Scopes
We perform every scan with particular attention to the scope. This ensures we can take into account the purpose of the scan and its further use within your organisation right from the project preparation stage.
Steel constructions
Large installations with steel constructions can become deformed over the years. This includes rafters or large steel beams that support heavy machinery, for example. We can use a 3D scan to observe the deformation and measure whether it still complies with set standards.
Installations
A 3D scan can map complex installations that do not have much room for access, giving you a better insight into zones that are hard to reach.
Production lines
A 3D scan of a production line where modifications or conversions are required enables you to determine the dimensions very precisely on your computer. So you don't always need to go into the production hall.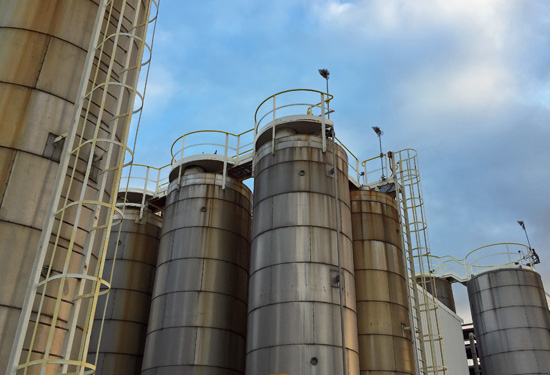 Storage tanks
In order to satisfy the VLAREM II legislation, storage tanks  for hazardous substances must satisfy a number of requirements. One of these requirements is the ability to demonstrate that the settlement or sagging of the tank does not exceed the maximum value as set out in the EEMUA159 standard (or API653 = US variant). In addition to the settlement measurement, we can use a 3D scan to also analyse the roundness of a tank.
Production hall
Some production halls have been place for decades, and often no longer have documentation available. Machinery has sometimes been relocated or added to, and when modifications or additions are required, we sometimes encounter unwanted surprises. A 3D scan allows you to very quickly map the correct dimensions of the hall and positions of the machines, platforms, pipes, etc. in more detail.
Ballast water system
From 2024, all ships are required to have an approved Ballast Water Management Treatment System, in accordance with the D2 standard. We use 3D laser scanning to map the existing ballast system. This 3D measurement then serves as the basis for investigating what adaptations to the ship are required to satisfy the ballast water convention.
Piping
A large, long piperack that needs mapping? Renovations or conversions where the piping is crucial? A 3D scan can really add value here.
Flanges
Need to open up existing flanges but your machinery or installation can only be partially shut down? Limit your downtime by performing a 3D scan of the flange so you can be sure it fits.
Talk to our experts about your situation!
Our experts are very familiar with technical and industrial environments, and will be happy to help you with your engineering projects and measurement questions.
Please contact us now to discuss your options.